Three of us were volunteered to travel by boat from Salima up to the middle section of the lake. The weather was dreadful and only I felt well enough to dive the the isolated reef we passed on the way (Jalo - but more on that ina later post).
After the rest of the gang had rejoined us we set off for Taiwanee Reef.
This was Ad's special mission during the trip. Pseudotropheus saulosi is becoming very endangered and is found nowhere else in the lake. Years ago there were huge shoals of saulosi covering the whole reef but today they are found only in very small family groups. Collection for the pet trade is the reason. The whole lake is under threat for a wide variety of reasons but at this location it is we aquarists who have brought this species to the brink of extinction.
Anyway, Ad made his release of over a hundred young saulosi that had been bred locally by SMG.
I took down a wide angle lens - which is really more suited for 'big' creatures but I wanted to capture something of the spirit of the location and the fact that the saulosi are found now only in small groups.
Here are some pics - here's a borleyi. But please notice the colours on the reef. In my opinion Malawis in an aquarium are happier with a neutral to dark substrate / background / rocks than with coral sand and white bleached rocks. For my next show tank I have some terracotta wine racks that I'm going to introduce. I'll try to grow algae on these - just like on the red rocks above Also - although the water is alkaline it ain't specially hard - and chlorides are virtually nil.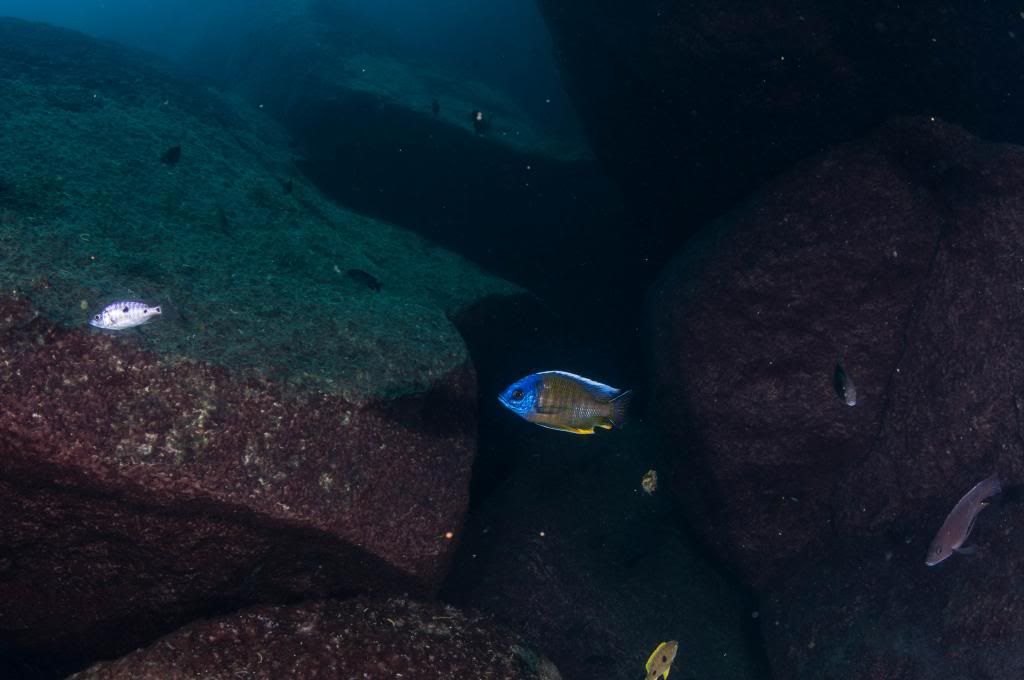 Here's a zebra with his chops around the rock
Here's a small group of the saulosi - they are both beautiful and friendly. No wonder they are so popular. There will always be a demand and a requirement for wild fish but Ad Konings told me that the future of the hobby lies with specialist dedicated species breeders like Tony and Claire. Notice the only partly 'male' coloured male fish at the back of the group.
Three females
One female - notice the colours on the reef!
Two more - notice the fryeri emerging at the back. Fryeri are found all over the lake.
No shortage of the less colourful mbuna - these guys followed me around.
Here's a solitary male saulosi - I really had to look to find these guys - I could see Ad's point about how rare they've become.
Here's a big mbuan - Petrotilapia. If you you've got a 10' tank you might try these.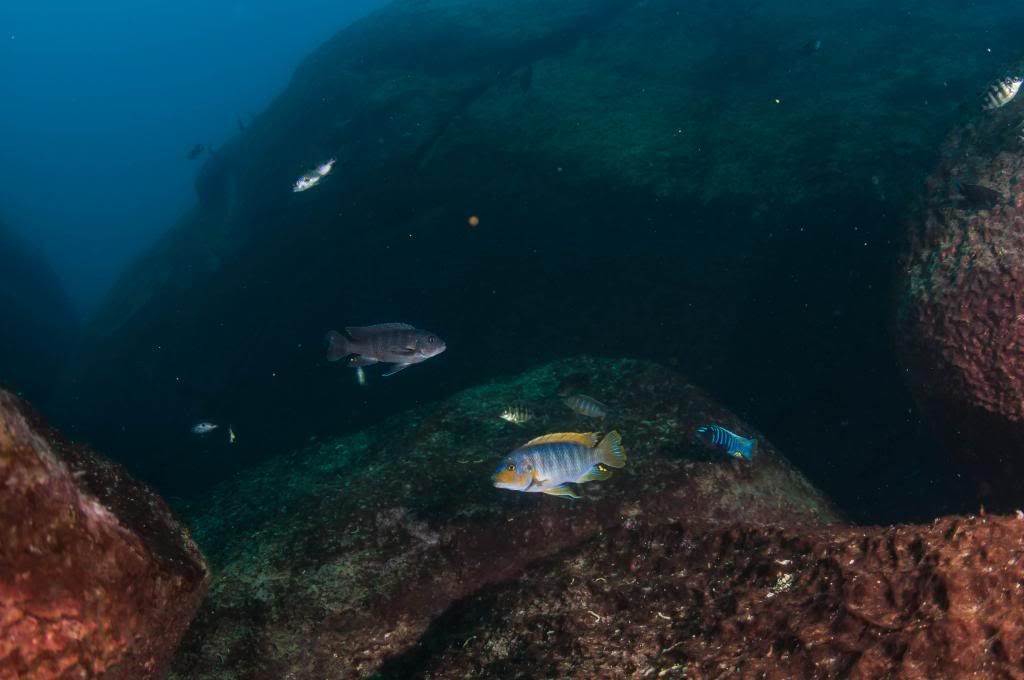 Towards the end of the dive I noticed a commotion at the surface - I went over to investigate
Notice the small Rhamphochromis (Malawi barracuda cichlid) at the bottom of the picture.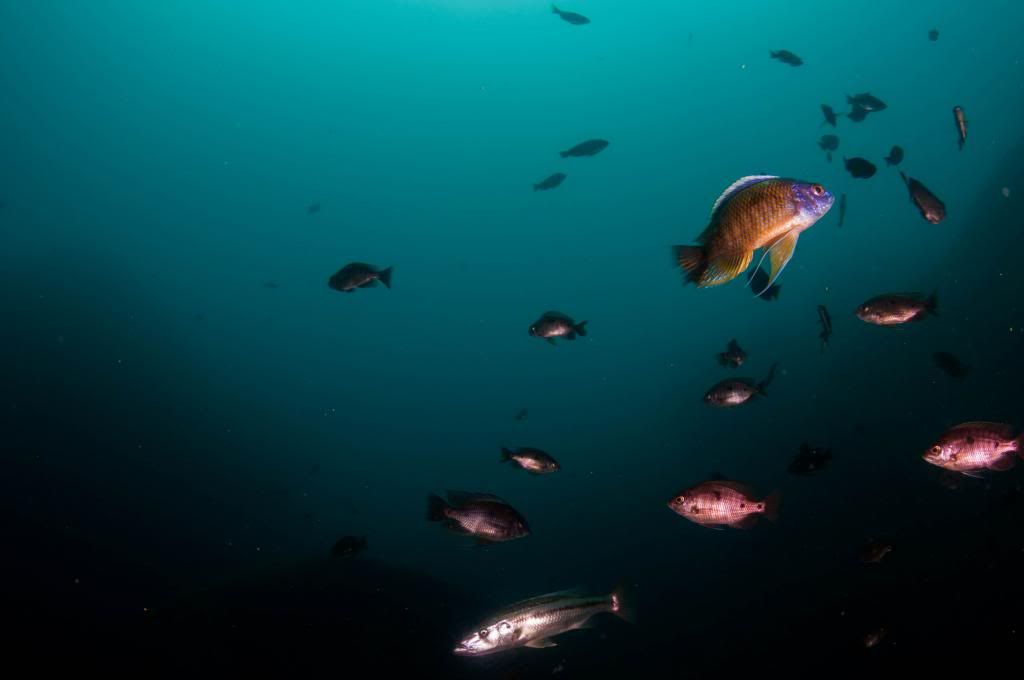 I reckon the Rhamphs had cut through some Malawi sardines and left a piece floating - because a borleyi male had grabbed half a sardine and was trying to scoff it before his friends could get a look in.
I was rewarded with is pic
This is a magical dive site for Malawi lovers. There were huge Rhamphochromis in about 25 metres of water (normally they're down at 60 metres which is outside operational range with the equipment available in Malawi) and some huge male Tyrannochromis! Unfortunately I couldn't get close enough to get any good pics of these guys. Its very difficult underwater with a wide angle lens.