As Lekh requested, here are some of the Neochromis omnicaeruleus morphs
2 male blue morphs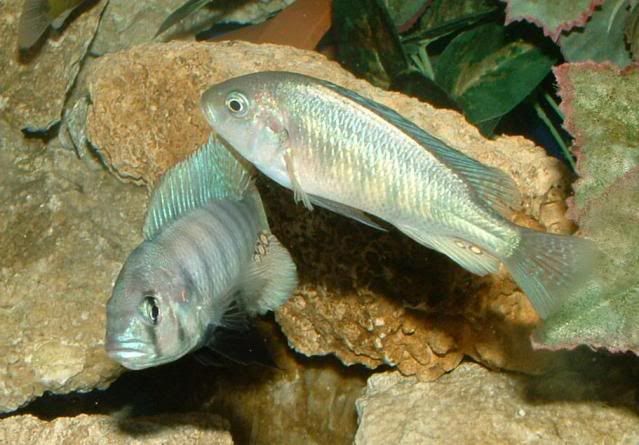 yellow morph
blotch morph - also get almost black blotch males
The females
Care and maintainence.
These are true rock Mbipi,found in shallow water over rocks on which they graze. I feed a daily diet of spirulina flake/pellet and occasional feeds of sprawns. Aquascapping would be typical for malawi mbuna which would in my opinion make the best tank mates as long as they are not overly aggressive.
The strain from Makobe show a degree of polymorphic colouration. According to Seehausen there are as many as 4 male morphs and between 8 and 10 female morphs. In nature the plain blue male dominates and for females the OB. Because of the selection processes that favoured OB and WB males in these experiments i believe a higher percentage will occure from these fish than would occur in the wild.
http://www.eawag.ch/about/personen/home ... s_november
The population from Kunene can produce the yellow male morphs but females are generally OB. Makobe can also produce OB and the two look identical, i have been told the makobe's have a cleaner blotch pattern with the Kunene more "dirty"
The populations of Neochromis omnicaeruleus are thought to be stable and of least concern.
Paul