This was another offshore reef. Ad's advice was to drop down off the rocks onto the sand and look for a number of breeding big cichlids. I put on a wide angle lens (but not the super wide fish eye) as I was unsure how good the vis would be and I was hopeful of some big fish encounters
First notable fish I encountered was a small one but personal favourite S. fryeri
This guy was very delicately coloured - a bit like a Tanganyikan (in my unsophisticated opinion) I believe the genus is Mchenga - not sure of the species
Here's one of the bigger fish that I did find - a male Aulanocara rostratum. Steve Lunblad of the Cicihlid Exchange in Oregon (who was part of our group) breeds these.
Ps livingstoni female holding. Malawi's shell dewelling cichlid
I found these big kampango catfish (Bagrus meridionalis) - guarding their nest. All sorts of small cichlids hide in here for protection. Catfish this size (the female above was close to 5') are bruisers - they look like a back tiger shovelnose- especially so when guarding fry. I'm sure they would have had me if I'd gotten any closer!
Now this particular picture caused a bit of a stir when I checked it back on the surface. Ad Konings reckons I'd somehow photoshopped it underwater. What is that small catfish just below the gill case of the bottom kampango?
Ad christened it Corydoras pallas (joking of course). I'd love to know what it really was!
I then found my way back to the reef (but was lost - it was not the reef I was dropped onto). That'll teach me to take a compass bearing before heading out into nowhere.
I snook up on this big mormyrid from behind. But my bubbles sound like gunfire underwater and he hopped it before I could get a good pic. You can see the size and the shape though - it had a big elephant nose. It was at least 2' long - bigger than all the cichlids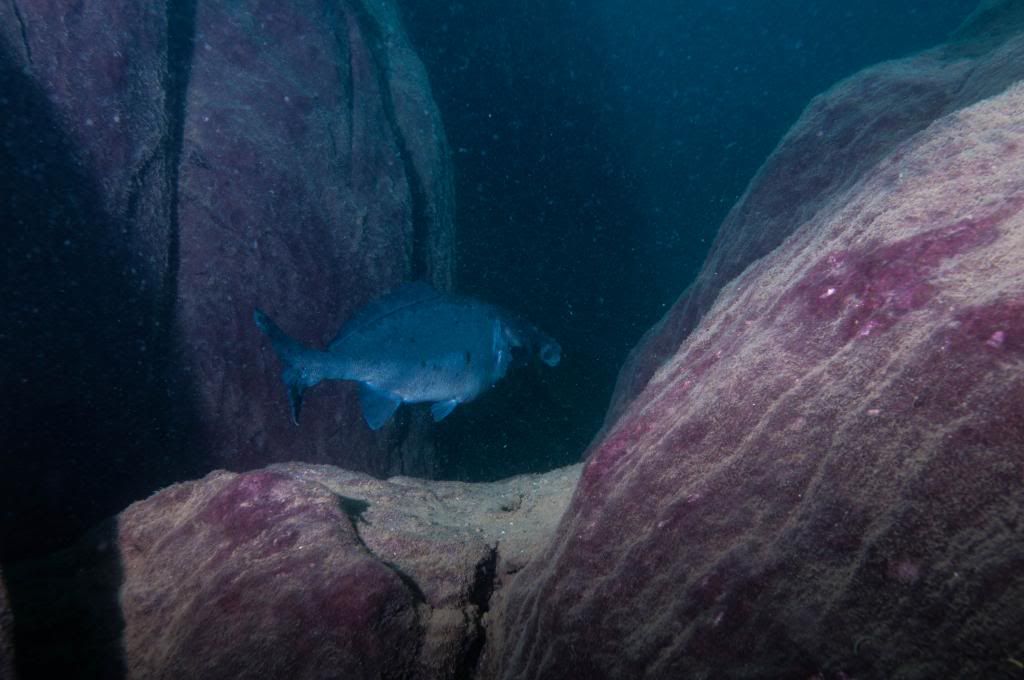 My air was now running low so I ascended the reef to offgas (not what you think - its a diving expression for reducing nitrogen in your body) where I was joined by a family group of one of my top five mbuna - the only ones I saw in the entire fortnight (or two weeks and three days as my wife has reminded me) even Ad was surprised that I'd found these at this location
Pseudotropheuse acei - the nicest ones I had ever seen. They have a sort of dancing movement when they swim - much like chaffinches in flight - wonderful to behold.
Here's the dominant male
brooding female (notice the red rock and green algae - colours go well with blue and yellow cichlids)
What a beauty!
This was the top of the reef - and by now my air was running low, my dive computer was having a fit (its got air integration) and I needed to surface - so I had to leave my new friends behind.. Thats a yellow fin borleyi ruining the family picture.
Goodbye!